Demi sebuah pesta, bukan pesta muda mudi tapi Pesta Durian, 7 buah kereta meluncur laju dari bumi Tronoh ke Bukit Gantang.
klik sini
*Ohh ayat mintak penampaq sungguh*
Okehh, masok ke topik asal (straight to the point oang puteh kata), sabtu lepas 23 Julai 2011, Pesta Durian kali kedua untuk tahun ni diadakan di Bukit Gantang. Kalao yang dulu, kat RnR Bukit Gantang, yang ni pulak kat Dataran Long Jaafar. Thanx to Ponci yang siap create event kat fb dan sanggup ponteng caklempong semata-mata godaan buah durian.
Mula-mula semua kereta kumpul kat Sitthick untuk brekfes dulu, sambil tunggu kereta-kereta yang belom sampai. Lebeh kurang 9.30 pagi, terus gerak ramai-ramai.
Kereta Sap
- Sap . Ponci . __ . __
Kereta Deli
- Deli . Yau . Aik . __
Kereta Nipi
- Nipi . Irsyad . __ . __
Kereta Kudo
- Kudo . Abu . __
Kereta Sofia
- Sofia . Mia . Syikin . Tanjong . Emy
Kereta Aos
- Aos . Najat . Min . Echah
Keretaburok
- Wani . Najwa . Ana . Christine
*Isi tempat kosong sendirik ok, aku pon meroyan nak ingat balik satu-satu nama penumpang* :)
Ni baru lepas parking. Jaoh ohh, nun di hujung jalan sana kena parking.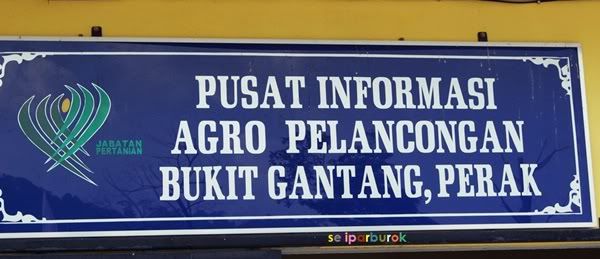 Tapak pesta.
Da sampai kan, menonong ja semua carik durian. Tak pandang dah ni segala pameran yang ada kiri kanan. Mata meliar ja atas bawah. Rupa-rupanya, waktu tu tengah ucapan perasmian. Jadi kena la tunggu Yang Berhormat potong riben dulu baru boleh makan.
Gambar waktu ambik durian memang takdak, sebab sangat tak senonoh. Laju ja ambik, sorang kalao boleh ambik berbijik-bijik pulak tu. Dan pompuan lagi laju tangan ok. Haha.
Nasib baek dapat port baek punya. Teduh pulak tu.
Ni lagi satu geng yang sampai. Zak. Acap. Aseng. Spon.
Kumpul-kumpul durian sebanyak yang boleh. Budak-budak ni semua memang sangat tamak haloba ok, aku ja yang tak tamak. #tipugilaayat. Dan lepastuuu...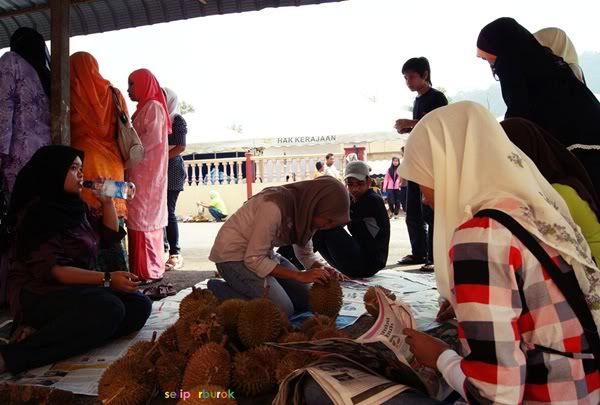 Bismillah.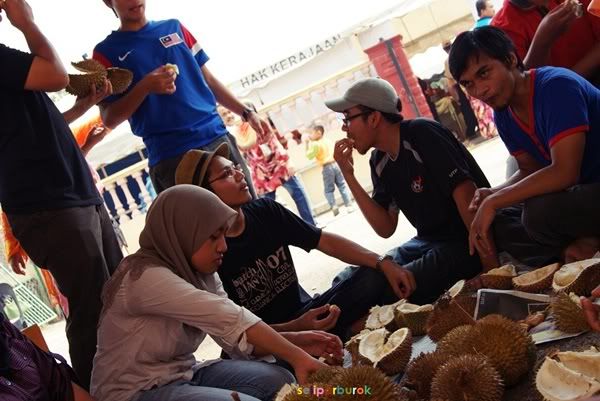 Jemput-jemput makan. Tu sedap, ni manis. Semua nak capai.
Ni dah slow down seket.
Yang penting, ikot cakap pesan orang tua-tua. Kalao takmao panas badan, minum air dari dalam 'housing' durian.
Sisa-sisa. *Lupa pulak nak crop gambar pompuan yang kanan tu. Selekeh gila makan, macam mana mak mertua nak terpikat*
Rasanya time ni dah setat kena bayar. Tengok dah pasang tali merah putih tu.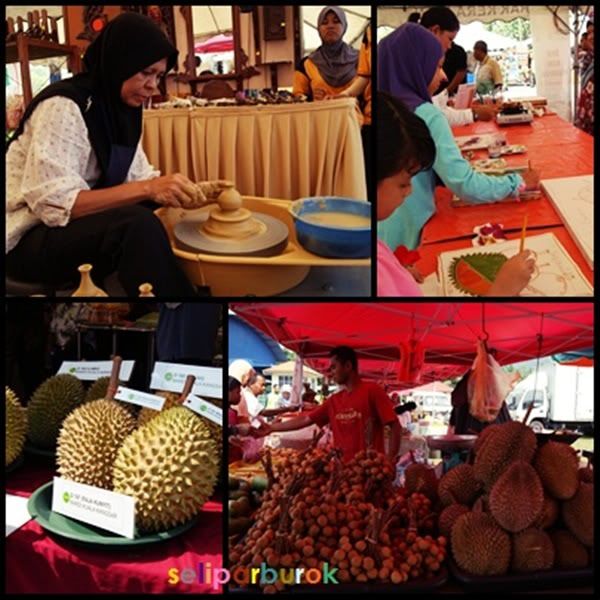 Ni gerai-gerai yang ada. Macam-macam, demo buat labu sayong, lukis batik, jualan buah.
Tapi motif kami kan nak makan durian kan. Habis melahap, terus angkat kaki. Jahat ohh. Ayat baik seket, sebenarnya nak bagi ruang kat pengunjung-pengunjung yang baru sampai. Memang berpeluh durian haritu.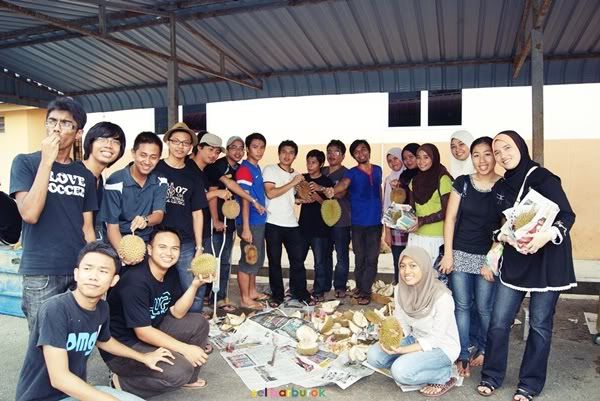 Buah tangan sorang satu. *Ramai gak takdak dalam gambar ni*
Last pic, dengan wife-to-be. Mintak-mintak dapat berkat. *Sambil kenyit mata*
All pic credit to Ana

0.O
Tweet